Science across frontiers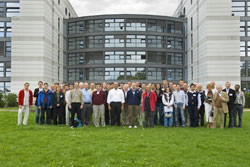 CERN in general, and the huge experiments in particular, involve a multitude of people with different backgrounds, priorities and interests. Is this way of doing things the most efficient? No doubt we could point to cases where CERN could have operated more efficiently.
Yet the chief business of physics is new ideas, and these may be born precisely in high-spirited discussions where people with varying cultural backgrounds view problems in unexpected ways. The new ideas may be just what are needed to advance the frontiers of knowledge. There is therefore no reason for surprise that Europe, largely through the medium of CERN, has gradually recovered a leading role in fundamental physics, as it had before the Second World War.
The laws of nature are almost the only ingredient of human culture that are more or less safe from ideological differences, and people from all over the world work peacefully together at CERN, towards a common goal: a deeper understanding of the material world.
This may be even more significant than the discoveries in physics, if such international co-operation helps, in the long run, to create better relations between nations, and to rid the world of the dangers threatening the existence of the civilisation that fosters our science. In that sense, the polyglot restaurants at CERN seem to be as important as the big accelerators.